Hello FuelFit Simei!
Fuelfit Simei boosts of a group of energetic ladies and mothers who love to bring their workout outdoors! For many of these ladies, fitness was not a great priority for them in their busy lives UNTIL they met FuelFit Singapore!
Simei, known to be tucked in a corner the East, post as an obstacle for many people living there who are seeking for great fitness programs and exercises. This is mainly because Singaporeans will have to travel to the bigger neighborhoods nearby, such as Tampines and Bedok to reach the commercial gyms in the shopping mall, which did not serve much purpose to those who wanted a great mixture of fitness exercises that varies from HIIT, circuit training which targets both cardiovascular and strength building.
As FuelFit Singapore celebrates its 4th Anniversary in March, we will like to also acknowledge the achievements of all the our FuelFitters in Simei for committing to their fitness and improving in strength, both physically and mentally, Everyday! 🙂
Below are the recipients of the 3 FuelFitter Awards for Simei this year with our Master Fitness Creator, Saudi Tan:
(1) Most Resilient Tough Cookie : Jyothi Shabarashi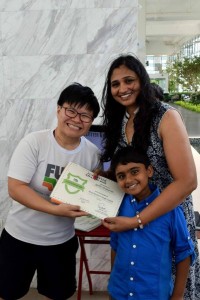 (2) Most Improved : Lalitha Cherukuri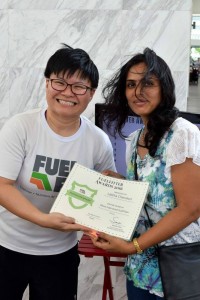 (3) Camp Ambassador : Keerti Shanbhag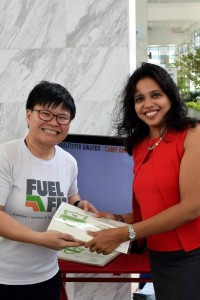 FuelFit Simei is located near Melville Park Condo and the group is working out every Monday & Wednesday mornings 0845 am. If you stay in Simei, or if you stay in Melville, Do come and check us out! There are also various FuelFit locations that are open to all FuelFitters, wherever in Singapore you may be at! Fitness at your Doorstep in Simei is possible now, with FuelFit!