As a man, you probably find the weight piling up and losing both cardiovascular and muscular strength as soon as you start their busy work life. FuelFit can help men of any fitness levels regain their fitness and strength through exercise and dietary intervention. You don't need to bake yourself in the gym over a mundane routine to be fit. Receive accountability from your coach, your team and get fit naturally!
Click the program you are interested in :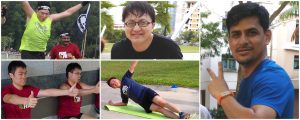 Fit Men
(For all men of any background and from all walks of life)
Aspiration : 
To achieve personal fitness goals, from weight loss to gaining more strength and be fit ready!
Summary :
This program suitable for men of all fitness levels (our current male members range from 28 – 50 years old!). It is also suitable for weekend race warriors who need to maintain their fitness base to prevent injuries from weekend activities.
All members work out in small dedicated groups and form support for each other. Your workout program includes:
Initial Movement Assessment
Body Composition Tracking and end of term analysis report (at request)
Basic Monthly Diet reviews
Modifications of workouts to suit your current physical fitness level or injuries
MyoFascial Coaching
Feel free to consult your ACSM* certified Coaches on any issues regarding dietary health, physical and mental fitness.
FuelFit Family and Community events and games.
FuelFit privilege discounts to Obstacle Course Racing (OCR) training and workshops, conducted by Spartan Training Specialists.
FuelFit privilege discounts with our esteem clinical support, East Coast Practitioner's.
*ACSM : American College of Sports Medicine
Our face-to-face training programs starts from $189/month. Have a chat with us so that we can offer you the best program for your needs.
Interested? Click here to contact us or call 88385917 now.
Nutrition Pro-Coach
(Pre-sale register for August intake has started! Click here.)
(For EVERYONE of any background, any country and from all walks of life)
Aspiration : 
To achieve personal weight loss and health goals through professional certified nutritional coaching with flexibility and on the go no matter where you are!
Summary :
This program is suitable for men of all fitness backgrounds and physical stature, especially busy individuals who never never has the motivation and time to maintain great nutritional and eating habits in the long run. Every individual will have their personalized private account. Your Nutrition Pro-Coach includes:
Initial Dietary & Lifestyle Assessment with Precision Nutrition certified Coach Saudi
Build your personalized habit-based eating style
Go through bite-sized reviews and assignments on your mobile
Complimentary monthly webinar of nutritional topics with your supportive community & Q&A session with your coach
Having a virtual supportive community going through the same change, while maintaining your own privacy
Daily accountability check-ins and gain inner motivation to persist on
Specialised nutrition coaching for Asians in the Asian dietary context, culture & available food types
Great tool if you are too busy to plan and helps to boost your current exercise routine
Interested? Click here to contact us or call 88385917 now.