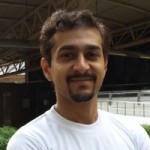 Ravi Chincholkar – Fitness Coach
Coach Ravi is a banker by profession. In spite of his demanding career, Ravi has been actively following his own fitness regime for the last 10 years. He is an avid runner and has ran several races in Singapore, which include few half marathons and a full marathon.
Along the way, lot of his colleagues and friends have sought his advice on getting fit and staying active. Realizing his own passion for fitness and an ability to motivate people around him, Ravi decided to become a fitness trainer.
Ravi believes that, parents should be the role models for their own kids. Only active parents can sow the seed of fitness into their kids, so that both can enjoy good health throughout their lives. When it comes to making healthy food choices, parents should lead by example.
Ravi is married. His wife believes in his fitness goals and is a constant source of inspiration to him. He has two kids, the elder one is an enthusiastic cricket player and the younger one loves to play outdoors and enjoys classical Indian dance training. In his free time, Ravi enjoys roller blading, swimming or design his own fitness training programs.
Certifications
Certified Personal Trainer,  ACSM
Certified CPR/AED
SGX-Certified Obstacle Trainer
Certified SGT KEN Boot Camp Fitness Instructor (a.k.a."Tactical Fitness Trainer")